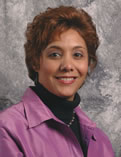 Our Associates
Richard T. Johnson
Major Peter M. ("Pete") Balogh
Camille Baxter
Gladis Benavidas
Jack Broderick
Dr. Walter B. T. Douglas
Mary Ann Epps RN., BS., CNOR
Dr. Sherrie L. Fowlkes
Dr. Rosita Lopez
William Micklus
Dr. Abdin Noboa-Rios
Dr. Sonya Whitaker



Camille Baxter
Camille Baxter is a partner with GAB Marketing & Communications, a consulting firm that helps organizations enhance communication strategies with internal and external customers, teams and business leaders. Formerly the President of Impact Coaching & Consulting, Inc., she and partner Pat Golden created GAB in 2004. Ms. Baxter has a proven track record in identifying business needs, developing and implementing innovative solutions that result in increased business performance and helping organizations to increase communication effectiveness. Her expertise spans over 15 years in the areas of: communications, strategic planning, training & development, organizational change, performance improvement, sales and marketing.
Prior to consulting, Ms Baxter held a variety of positions in leading corporations such as, Diners Club, American Express, Xerox Corporation and Rockwell Telecommunications. In her last corporate role, she was a Vice President and key member of the senior management team at Diners Club International, a division of Citigroup. Ms. Baxter was responsible for leading the sales infrastructure for the Establishment Sales Organization. She is a seasoned facilitator, originally joining Diners Club to establish a training and staff development function within the sales organization.
Through her consulting projects she has worked with clients such as: American Express, Diners Club International, Ariel Capital Management, The HistoryMakers, Xerox Corporation, The Oak Park District 97 Elementary Schools, the Oak Park Police Department and Benedictine University. She has also supported the success of major initiatives led by other consulting firms for clients such as MasterCard International, Columbia University and the New York City Department of Education. GAB currently works within the University of Illinois at Chicago Medical Center to market physician services in consumer oriented language and increase internal communications effectiveness and customer service. As a contract trainer for the Institute of Public Safety partnerships, a division of the Department of Justice, she delivers programs to increase terrorism awareness and deterrence within the hospitality and financial industry.
Ms. Baxter holds a B.A. degree in Communications from Loyola University in New Orleans. She is a graduate of Corporate Coach U and has studied at The American Management Association, the University of Chicago Executive Education program and Coachville. She is currently working on a Master of Arts Degree in Communications and Leadership at DePaul University.