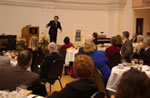 Areas of Expertise
Leadership Development
Diversity Awareness
Cultural Competencies
EO and Diversity
Race and Gender
Generations in the Workplace
Diversity Mentoring
Heritage Celebrations
Diversity for Practitioners
Healthcare Disparities
Hispanics at Work
Ensuring the Success of All Students
1st Generation College Students



Cultural Competencies
Leadership in a changing world of work demands leveraging the talents of all. Shifts in demographics, the rapid advancement in technology, the growing global marketplace and changes in society require certain skills and cultural competencies to engage and manage an increasingly diverse workforce.
Employers in large and small, public and private organizations are in search of work team members who are eager to increase their cultural competencies and create an environment which attracts talent from all groups while striving to make the workplace more respectful and productive.
Culturally competent employees are proficient in identifying their own needs, proactive in the search for developmental experiences that foster self understanding, and able to sharpen cross cultural skills which are essential for surviving and thriving in the throes of change.
We can help your leaders, managers and rank and file employees to:
Develop a personal plan of action for acquiring the cultural competencies needed to work effectively in changing, diverse and cross cultural settings;
Ensure that the services and products of your organization are culturally relevant in the context of different identity groups, learning styles and across functions and boundaries; and,
Learn to partner with diverse communities and individuals who are impacted by the decisions of your organization and who are vital to your mission and bottom line.